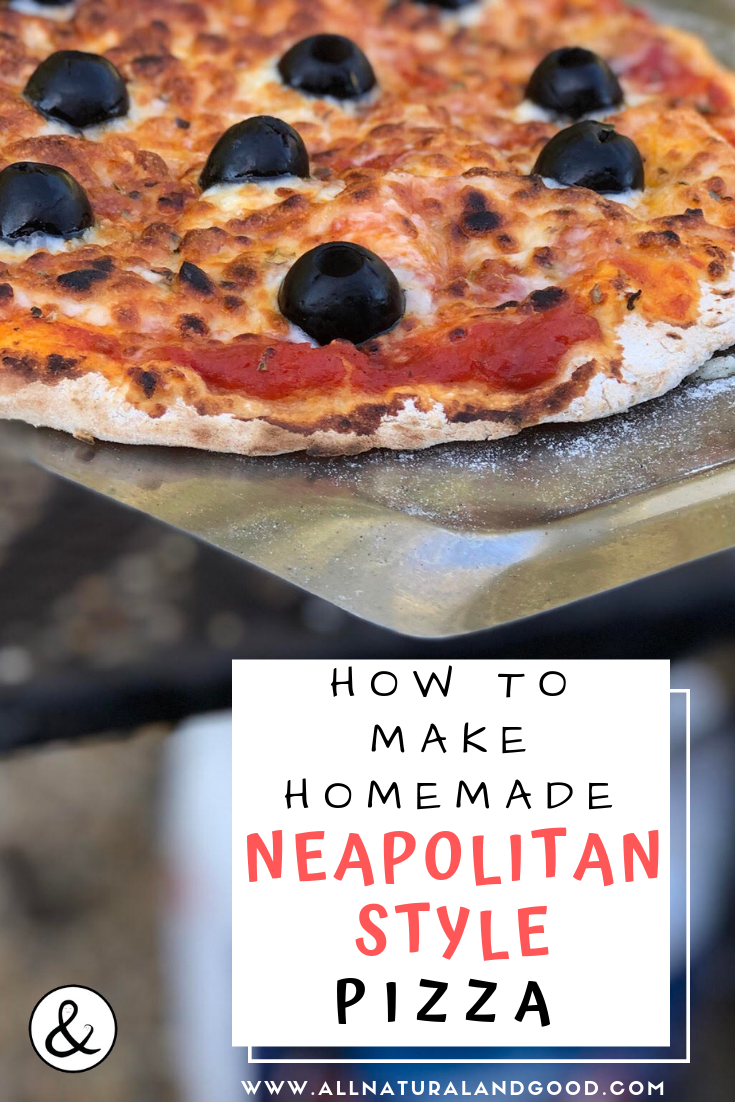 When it comes to making your own pizza, it all starts with the type of dough that you use. I make my pizza dough homemade just like how they do it in Naples, Italy. For authentic Neapolitan pizza, you will also need to cook the pizza in a pizza oven using the right techniques. I will be explaining step by step how to make your own homemade Neapolitan style pizzas at home!
Please note: I am not a chef, I am not a professional pizza maker and I do not own a pizza restaurant. What I do love is making pizza and I feel like the OONI pizza ovens make it easy for our family to do that.
I love the pizzas that come out of my OONI pizza ovens. I use the OONI accessories as recommended by OONI.
Who doesn't love a delicious wood-fired pizza hot out of the oven? There is something about that charred crispy outer crust and perfectly browned pizza toppings that gets me every time. Is your mouth watering yet? Because mine is!
Here's the deal, it is all about that dough. Although store-bought dough can be easy and delicious, it just doesn't compare to pizza dough made from scratch with authentic Italian ingredients. Although it takes a little more time and effort, homemade pizza dough is what makes authentic Neapolitan pizza so delicious.
Not only that, but cooking at extremely high temperatures is ideal – much higher than what your conventional oven will ever reach. I am talking around 800 degrees Fahrenheit. The best way to achieve this is by purchasing a pizza oven meant for this type of high-temperature cooking.
We use the OONI Koda portable pizza oven, although we have also used the OONI Pro Pizza Oven. Both work great, but we prefer the ease and convenience of the OONI Koda. Both are portable and compact, making it easy to use in any backyard space or to transport for traveling. With either, you can cook a pizza in just about 60 seconds!
The OONI Koda Pizza Oven
The OONI Koda is gas-powered, so although it create the same style pizza, there is no hassle of lighting wood pellets. Simply turn on the switch to turn it on. See my YouTube video at the end of this post for a step by step tutorial for getting the OONI Koda powered up and how to cook your pizzas.
You will need a propane tank for this pizza oven. You can read more about the OONI Koda by reading my review post.
The OONI Pro Pizza Oven
Previously called UUNI, this wood-fired pizza oven uses wood pellets to create an authentic wood-fired pizza experience. The OONI Pro is a little larger, ideal for 16 inch pizzas. Weather can be a factor in how well the OONI Pro fires up and stays fired up. If you like more of that smoky flavor, this pizza oven is a great choice.
You will need wood cooking pellets for this pizza oven.
Here is how to make homemade Neapolitan style pizza dough from scratch:
This recipe will make approximately 7-8 personal-sized Neapolitan pizzas.
It is extremely important that you use the right flour. Buying all purpose or bread flour is just not going to cut it. You will want to get genuine Neapolitan style wheat flour which is called 00 flour. This European style flour is the most refined which is ideal for pizza making. Its protein content is about 12.5%, a little lower than the gluten protein levels of conventional flours.
Ingredient List:
4 cups 00 Flour
1 1/3 cups warm water
1 teaspoon sugar
1 teaspoon salt
Cornmeal – you will use this later when you cook your pizzas
Homemade Pizza Dough Directions:
Empty the rapid rising yeast packet into the warm water. Place the sugar in the water. Gently whisk with a spoon. Let it proof for 5 minutes. You know the mixture has proofed when it starts to froth at the surface.
Add the 00 flour to a medium sized bowl. Create a fontana (a volcano-like hole in the center of the flour). Pour proofed yeast mixture into the hole of the fontana. Gently circle your finger around the rim of the fontana, mixing slightly more and more flour into the water mixture.
Eventually, all the flour should be mixed into the center until you have a ball of dough. If it's slightly wet add just a dusting of a little flour until it isn't so sticky. If the ball of dough is a little dry, add a little bit of warm water to keep it just moist.
Line a larger bowl with a bit of olive oil, and place dough ball inside. Drizzle olive oil on top of the dough ball and then cover with a damp kitchen cloth. Let it rise until the dough has doubled in size.
Here is how to make homemade Neapolitan style pizzas at home:
Pizza Oven Must-Have Tools:
Making Your Neapolitan Pizza:
Roll out the pizza dough as thin as possible and about 12 inches around with your rolling mat and rolling pin. For the OONI pizza oven, remember "Thin to Win". This will ensure that the pizza dough cooks evenly along with your ingredients.
The last thing you want is doughy pizza. You want a nice consistent crust. It doesn't have to be as thin as a cracker but try to get it as thin as possible.
Sprinkle cornmeal on your pizza peel. This ensures that your pizza will slide off onto the pizza stone. You don't want to have your pizza dough stick to the peel or it could ruin the pizza.
Place the thinly rolled out dough on the pizza peel on top of the cornmeal. Top with a spoonful or two of your favorite tomato or pizza sauce, and spread thin on the surface of the dough. Remember to go easy on the sauce. The more sauce, the less cooked your dough will be on the surface and the more likely it will spill over.
Place all of the toppings of your choice on top including shredded mozzarella cheese (or your favorite cheese for pizza). It is best to use toppings sparingly. A little will go a long way!
Use your infrared thermometer to make sure your OONI pizza oven is blazing hot, reading above 600 degrees but ideally around 750 degrees Fahrenheit.
Transfer the pizza into the hot oven using your pizza peel with handle to slide it off.
After every 20 seconds of cooking, pull the pizza out slightly and turn it 180 degrees to cook every side evenly. You can do this using your pizza peel with handle.
If you get good using the pizza peel with handle, you might be able to turn it while the pizza is sitting on top of the hot pizza stone.
After about one full minute your pizza should be done. The cheese will be slightly browned. The outer pizza crust will be mildly blackened. The toppings will be sizzling. Your mouth will be watering.
Transfer your pizza to a piece of food wrap and cut it into slices with the rocker style pizza cutter. We like casually enjoying our pizzas outside right off of the food wrap.
Here is how to make your own homemade Neapolitan style pizzas at home using the OONI Koda pizza oven:
Amazon and the Amazon logo are trademarks of Amazon.com, Inc, or its affiliates.