Our family is a big fan of the OONI brand and we recently purchased the new OONI Koda gas powered pizza oven and we are obsessed! Here you will find a tutorial and tips for using the OONI Koda pizza oven.
Please note: I am not a chef, I am not a professional pizza maker and I do not own a pizza restaurant. What I do love is making pizza and I feel like the OONI Koda makes it easy for our family to do that.
I love the pizzas that come out of my OONI pizza ovens. I use the OONI accessories as recommended by OONI.
You may have noticed by now that I am a huge fan of making pizzas at home and there is no better method for pizza making than using a pizza oven! You may have seen my other posts about the OONI (formally called UUNI) pizza oven. We recently upgraded to the OONI Koda and here's why.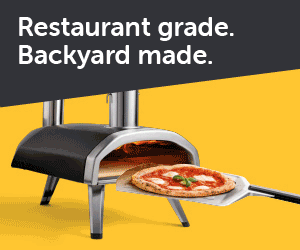 The OONI Koda is a portable gas powered pizza oven for making the most exceptional pizzas on the planet. The Koda is OONI's first gas powered pizza oven and can heat to temperatures up to 932 degrees. It only takes 15 minutes to heat up to high temperatures and will cook restaurant style pizza in just 60 seconds.
Unlike the UUNI 3 model, there is less of a learning curve for the brand new Koda model. It is also easier to use and requires no assembly. Who can complain that it's ready to go right out of the box? There are just a few essential accessories you need to succeed. I will also be sharing some Koda oven recipes in the next few weeks, but the culinary creations are truly endless.
OONI Koda Pizza Oven Essentials
First and foremost, don't forget that gas propane tank. It easily hooks up to the Koda. You can see how we put ours below a metal table and the Koda sits perfectly on top.
Another essential item is an infrared thermometer to gauge the temperature. The optimal temperature for pizza making is 752, but as long as the pizza stone is at least 600 degrees, it'll work just fine and take just a bit longer to get that crispy, brown crust.
We also use the UUNI pizza peels for adding toppings and transferring pizzas into the pizza oven. Having at least two pizza peels is ideal, so that one person can top their pizza while the other is cooking theirs, so that pizzas are going in and out of the Koda without any time to waste in between.
You will also want a pizza peel with a handle for transferring the pizzas from the OONI pizza peel to the pizza oven, as shown in the video below.
As soon as your pizza is done cooking, transfer it to a surface or plate coated with food wrap before cutting. This makes it easy to enjoy with little clean up in the end. Just simply toss the used food wrap in the trash when you are done.
A rocker style pizza cutter is also a must have for making pizzas in your Koda as quickly as possible. It slices really well and is long enough to cut the entire diameter of the pizza with ease. Being a family of five, it's important not to have sharp objects laying around. We love our wooden-style pizza rocker for this very reason.
For cooking perfectly seared meats, fish and vegetables, use a cast iron pan with proper cooking gloves.
OONI Koda Pizza Oven Tips
Use a high quality 00 flour only! This is a European flour that is highly refined.
Thin out your dough as much as possible in the center, leaving one centimeter around the perimeter as the crust.
Use fresh ingredients, using toppings sparingly, especially sauce and cheese.
After you roll out your dough, make sure you place it on a pizza peel coated with corn meal before adding the toppings. This allows the pizza to slide off effortlessly into the Koda.
OONI Pizza Oven Cooking Tips
Rotate your pizza every 20-30 seconds so that the crust gets evenly browned around the entire pizza. Think of the pizza as having three points spaced evenly around the perimeter of the pizza circle. You'll want to "toast" those three points in 30 second intervals.
If you notice that your pizza toppings are cooking faster than your dough, simply decrease the flame (or completely turn the oven off), for even cooking. The pizza stone will remain hot and continue cooking the bottom of your dough so as not to overcook the top of your pizza and risk burning the yummy toppings. (This is one of the cool features of the Koda, not other OONI models.)
Make authentic Neapolitan style pizzas right at home with an OONI pizza oven!
Here is a full tutorial video for making pizzas in the OONI Koda pizza oven:
Amazon and the Amazon logo are trademarks of Amazon.com, Inc, or its affiliates.