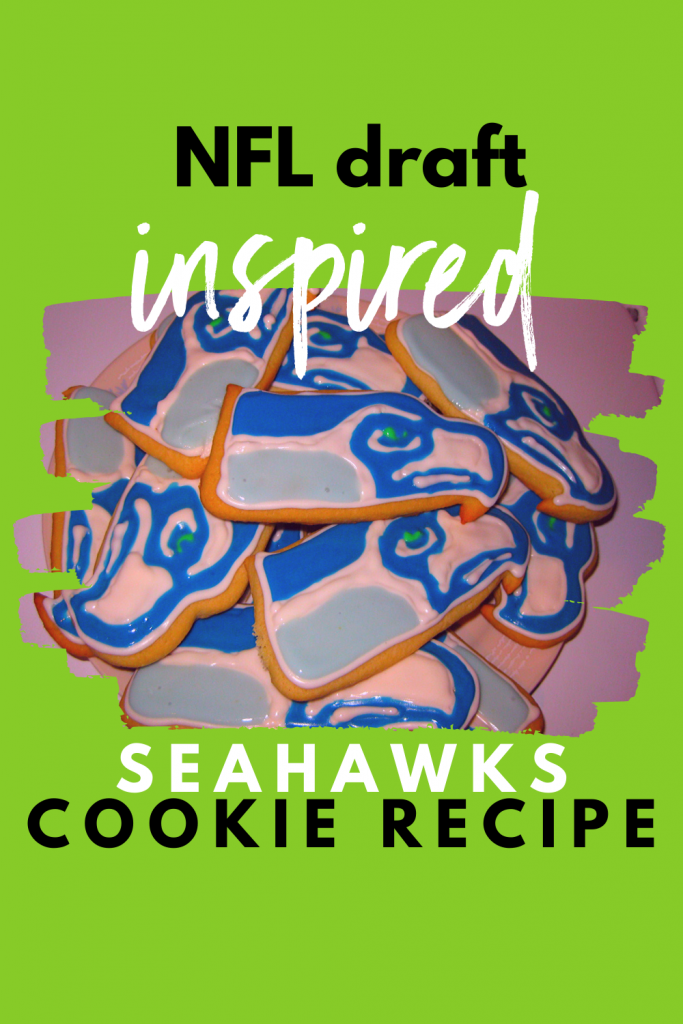 These draft-day inspired cookies can get you in the NFL spirit right at home. We added this recipe back when the Seahawks were in the Super Bowl and they were a real hit. Go Hawks! You too can make your own Seahawks cookies at home. Usually any time I feel excited about something I have to channel my inner creativity by baking or doing some other DIY project.
I'm so excited to break these babies out on game day and I hope that by reading this post you will feel inspired to make them too!
I should just let you know in advance that you have to acquire the Seahawks cookie cutter first. You can buy them online, or you can make one by following the same steps as I did for my last post. Click here to learn how to make a Seahawks cookie cutter. It's fast and cheap!
Make Your Own Seahawks Cookies
(Makes approximately 15 cookies)
Ingredients:
3/4 cups unsalted butter, softened
1 cup white sugar
2 eggs
1/2 teaspoon vanilla extract
2-3/4 cups organic flour
1 teaspoon baking soda
1/2 teaspoon baking powder
1/2 teaspoon salt
Frosting Ingredients:
3 cups powdered sugar (sifted)
2 egg whites
¼ teaspoon cream of tartar
1 teaspoon vanilla extract
water
Instructions:
Gather all ingredients. Make sure you have your Seahawks cookie cutter
Cream the butter and sugar together. Beat in eggs and vanilla. Blend in the remaining ingredients. Cover and let chill in the refrigerator for at least 2 hours.
Preheat oven to 400 degrees F. Roll out the dough (about 1/4 to 1/2 inch thick) on floured surface. Place cookies 1 inch apart on ungreased cookie sheets.
Bake 6 to 8 minutes in oven. Let cool completely before frosting
Prepare frosting according to this video by croutoncrackerjacks. For this recipe, we will need four colors: green, navy blue, light blue, and white.
Make two batches of frosting. Divide one batch evenly between two bowls. Divide the other batch between two bowls so that one bowl contains only about ¼ cup frosting, while the other contains the remainder.
Make light blue frosting by adding 1 drop of food coloring to one of the bowls with the frosting divided evenly. Leave the other one white.
Make green frosting by adding 4-6 drops of green to the bowl with the least amount of frosting in it. Make navy blue frosting by adding 1/2 teaspoon of food coloring to the bowl with the largest amount of frosting (it's gotta be reaaally blue!).
Fill your pastry bags with the frostings. When you're ready to use them, cut the tips so that they shoot a very thin stream of frosting.
Right now is when you need to do yourself a favor and look up the image of the logo online. You must use that as a guide. Once you have the logo pulled up for reference, trace the edges of the cookies with white frosting.
Outline the white sections of the cookies, without filling them in.
Once all the white frosting has dried for a few minutes, fill in the white sections using the flood technique shown in the video by croutoncrackerjacks.
Create the green eye.
Use the flood technique to fill in the light blue segment.
Use the flood technique to fill in the rest of the cookie with dark blue frosting.
Also check out our apple cinnamon cookie recipe!
Amazon and the Amazon logo are trademarks of Amazon.com, Inc, or its affiliates.