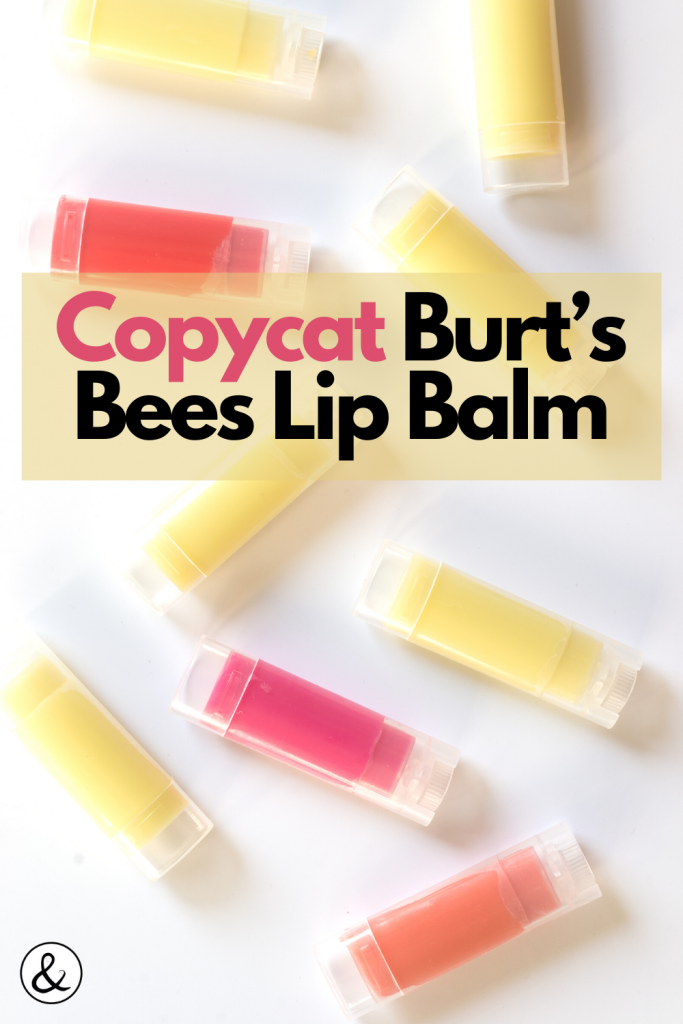 This copy cat Burt's Bees lip balm recipe is seriously amazing! Who loves Burt's Bees lip balm as much as I do? It is literally my go to lip balm and I love it more than any other lip balm I've tried.
I had a great idea of making them at home and saving some money, as I would spend 2-3 dollars or so just on one tube of chapstick. When I calculated the cost per tube to make at home, it was around 20-30 cents each. Keep it mind, the cost can fluctuate with the ingredients you use and where you buy it. 
Since I make a batch of tubes at a time, I always have plenty leftover to give away for gifts or party favors. My girls love them too! If they accidentally eat some, I do not panic since these copy cat Burt's Bees kip balms are made with all natural ingredients. 
Here is my recipe for copy cat Burt's Bees lip balm! Best part is, it is a fraction of the cost to make it than buy it!
Copy Cat Burt's Bees Lip Balm
What you will need: (This recipe makes 20 burt's bees lip balms, so adjust as needed – a great gift idea too)
Directions:
Put the coconut oil and beeswax in a mason jar and microwave for about 1-2 minutes or until melted but not scolding hot. I make sure to use a mason jar designated to making lip balm since the excess beeswax will stick and I do not recommend pouring it down your sink.
Next, add the essential oils and swirl until well mixed.
Add to your lip balm containers and let it harden sitting out or in the fridge 🙂
You might also enjoy:
Amazon and the Amazon logo are trademarks of Amazon.com, Inc, or its affiliates.