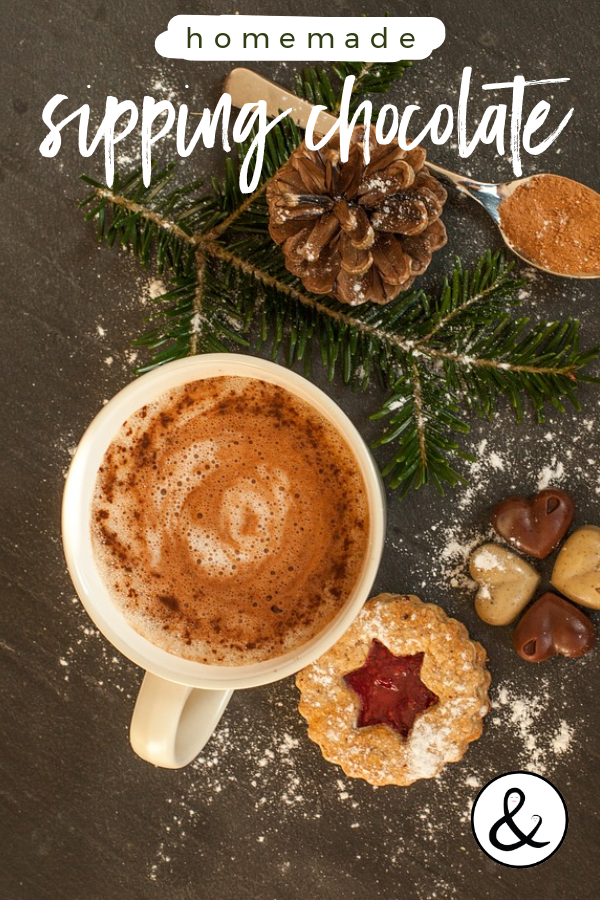 If you haven't yet heard of or tried sipping chocolate, you are in for a real treat. I first found out about sipping chocolate when I found it at Trader Joe's and had to give it a try. Little did I know I could save some money by making it myself. Better than any hot chocolate out there is a drink called sipping chocolate!
Sipping chocolate is a rich and healthy European drink. With tons of chocolate flavor, minimal sugar and 6 whole grams of fiber per serving, it is the preferred drink over hot chocolate.
I love making European style sipping chocolate as a morning beverage, dessert drink or to satisfy a chocolate craving without going overboard with a bunch of sugar. Not to mention, drinking sipping chocolate keeps me regular with all that fiber if you know what I mean.
I make a batch of sipping chocolate mix for holiday gifts and it is always a hit. Top it with some marshmallows or whipped cream for a real treat. My kids love it too which makes me happy knowing they are getting a healthier version of a hot chocolate.
Better than hot chocolate – sipping chocolate:
What you will need:
Directions:
Mix 1 cup cocoa powder, 1/3 cup sugar and 1/4 teaspoon of salt in a mixing bowl.
Put the sipping chocolate mix in your favorite tin or mason jar.
To make a quick cup of yummy sipping chocolate, add 3 tablespoons of mix into a hot cup of milk or your favorite non-dairy milk substitute.
Top with whipped cream for a totally gourmet drink!
Don't feel like making your own? Purchase my favorite sipping chocolate here!
Amazon and the Amazon logo are trademarks of Amazon.com, Inc, or its affiliates.