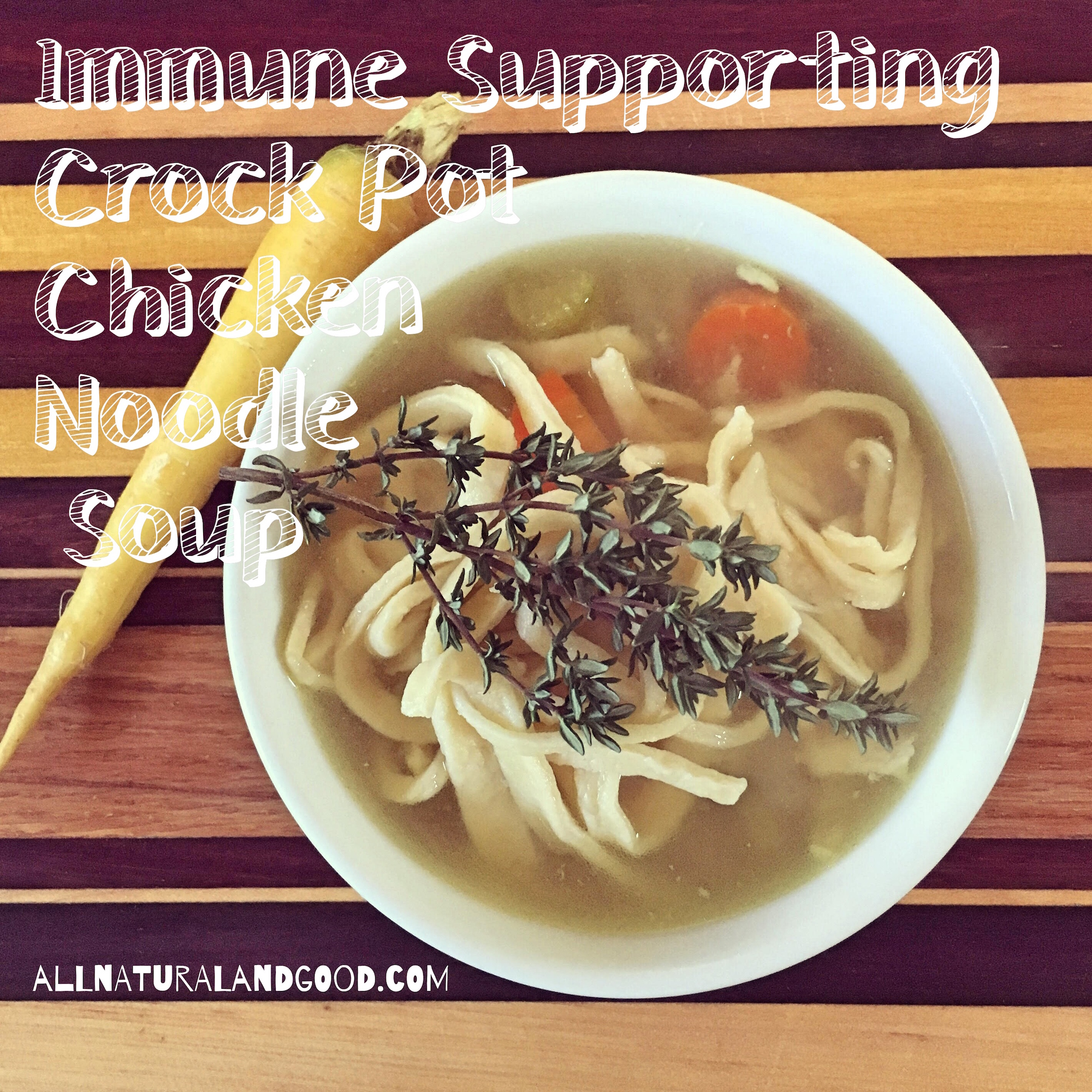 This chicken noodle soup is to die for!! I have tried many homemade chicken noodle soups and this is by far my favorite! I combined what I like from different recipes to come up with this recipe of my own. I wanted something with a little more ump for those winter ickies. They say chicken noodle soup can cure a lot of things, but this one is the all time most powerful of them all! The whole garlic cloves and thyme oil is really what does it for me.
Soup Ingredients:
2 pounds raw chicken – I used chicken breasts
6 cups chicken broth – I used Organic Better Than Bouillon Organic Chicken Base

1 cup chopped carrots
1 cup chopped celery
1 cup chopped onions
10 whole garlic cloves – This is one part that makes this soup so amazing!
6 drops thyme vitality essential oil – This is the most crucial ingredient to make this soup powerfully immune-supporting!
1/2 teaspoon white pepper – This one is my favorite! – Simply Organic White Pepper

1/2 teaspoon fresh thyme (optional) – I like mine extra thyme-y, so I add it!
Directions:
Place the chicken breasts at the bottom of the crock pot then add the remaining ingredients on top. Cook on low for 10-12 hours. I like to start mine before bed so that it is ready in the morning and I just keep it on warm so that my family can eat it throughout the day whenever they want!
Egg Noodles:
*Note – I cook these separately and do not add them to the soup to prevent them from getting mushy. Add the desired amount of egg noodles to the soup as needed and store the rest in the fridge.
Combine 1 cup flour with 2 eggs and 1/2 teaspoon of salt. Roll out onto a floured surface to make a thin layer of dough. Use a pizza cutter to slice thin strips of dough. Keep it mind that the noodles will expand 3 times the size when they boil.
Boil the noodles for about 5 minutes then strain. The best advice I can give about the noodles is not to add them to the soup. Treat it like a pasta as you would keep the noodles and sauce separate until you want to eat it.
Enjoy 🙂