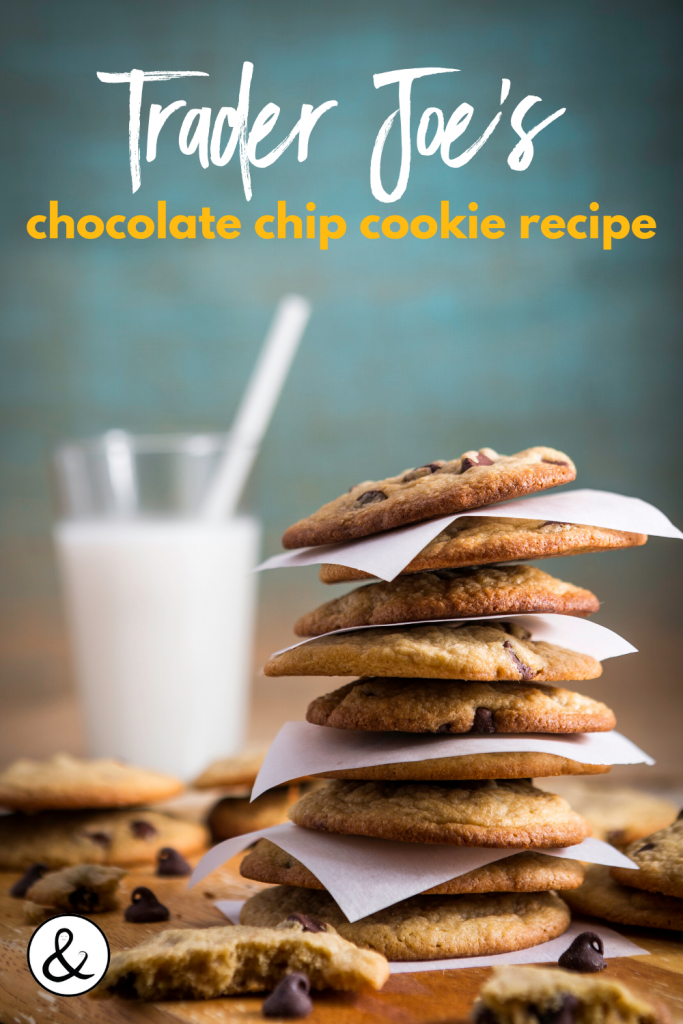 MMMM we sure have been baking up a storm at out house while sheltering in place. I have always been a lover of baking and sweets but there is something about Trader Joe's that has the best of everything. This Trader Joe's chocolate chip cookie recipe is so good! They closely resemble the cookies that you can make using their remade cookie dough squares.
I get it. There are tons of chocolate chip cookie recipes out there and it can be hard to decide which one to choose. They all seem to come out a bit different. Some are puffy, some are crispy, some are soft and some are cakey.
What I love about this recipe is that these cookies are a little bit soft, a tad bit crispy around the edges and super chocolatey! I think the key here is to use their semi-sweet chocolate chips rather than milk chocolate chips. MMM!
The Kitchen Essentials
Here are the kitchen essentials I recommend for making this recipe. I love my Kitchen Aid Stand Mixer for so many things but mixing up cookie dough is by far my favorite. It mixes everything up nicely in no time at all.
Wire cooling racks are also important so that the cookies do not continue to bake on the hot baking sheet.
Parchment paper is a real lifesaver! It makes clean up a breeze and I can easily slide the parchment paper off of the hot baking sheet and onto a cooling rack to cool.
Trader Joe's Chocolate Chip Cookie Recipe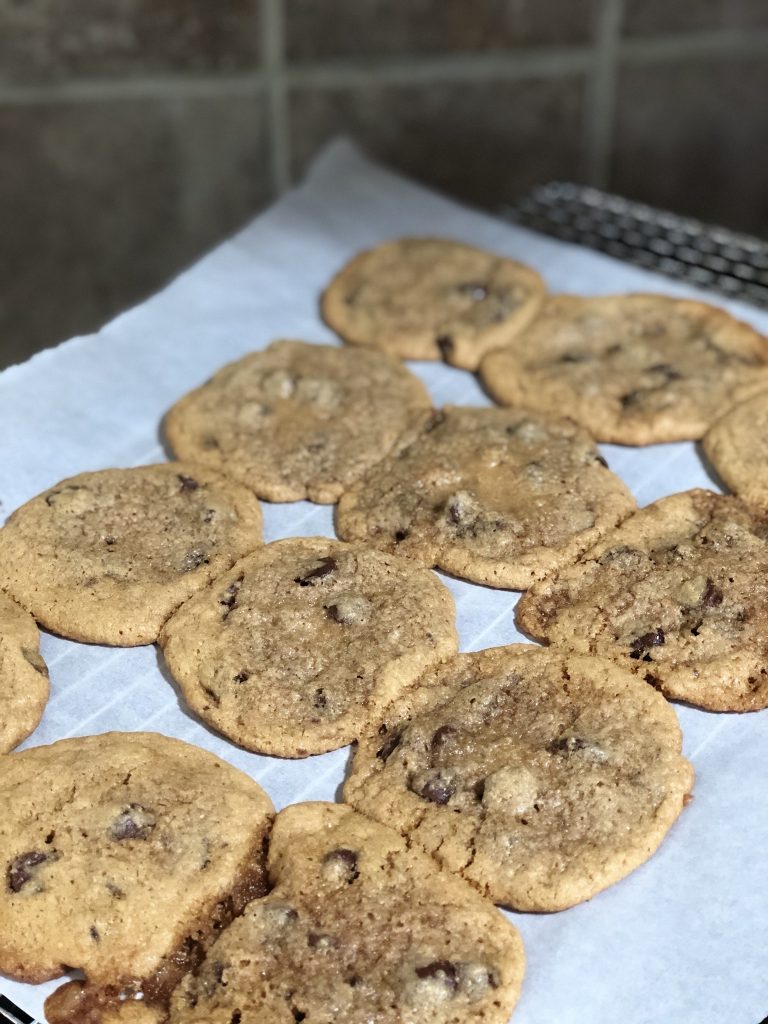 Ingredients:
makes about 24 cookies
2 1/4 cups flour
1 teaspoon salt
1 teaspoon baking soda
1 cup brown sugar, firmly packed
1/2 cup granulated sugar
1 cup softened butter
1 teaspoon vanilla extract
2 eggs
1 package Trader Joe's Semi-Sweet Chocolate Chips
1 cup chopped nuts – optional (I didn't use them in this recipe)
Directions:
Preheat oven to 375.
Combine dry ingredients in a bowl.
Combine brown sugar, sugar, butter and vanilla extract in the stand mixer and beat with the beater attachment until creamy.
Add in eggs and mix.
Add in dry ingredients and mix until combined.
Add chocolate chips and optional nuts.
Add the dough by the spoonful onto a baking sheet lined with parchment paper.
Bake 8-10 minutes.
Baking Tips:
I found that my spoonfuls of dough were too big in the first batch. A quarter-sized clump is all you really need. These thin out and get large.
8 minutes was the ideal amount of cooking time for us. They were perfectly gooey with a little bit of crisp around the edges.
Once you remove your batch from the oven, immediately transfer the parchment paper with cookies onto the cooling rack to cool. They should slide over just fine without breaking the cookies.
Next up I am making probiotic s'mores. Yum!
Amazon and the Amazon logo are trademarks of Amazon.com, Inc, or its affiliates.