This is a product review for the wine cork wall decor set by HouseVines. I am a wine lover and I save all of my wine corks (and those gathered by my friends and family) to make upcycled wine cork crafts and art decor like this!
Here is a great way to reuse and repurpose those wine corks that many feel are often useless. The wine cork wall decor set by HouseVines looks great over a home bar, wine table, kitchen cart or on any wall for any wine lover or home.
As far as what I think about this wine cork wall decor set, it is super cool! My only complaint is that there is nothing that really holds the corks in place like a front piece or anything. Some of my wine corks vary in size and thickness and even the regular generic wine corks do not fit exactly in place without gaps. If you knock into this piece while it is hanging on the wall the corks are free to fall out.
Otherwise, I love the chocolate brown color because it matches my furniture set and it looks great hanging over my wine table/home bar. This wine cork wall decor set would make a great gift for any wine lover!!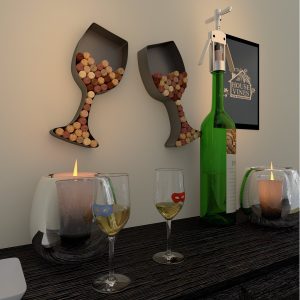 This post is sponsored by HouseVines
Amazon and the Amazon logo are trademarks of Amazon.com, Inc, or its affiliates.