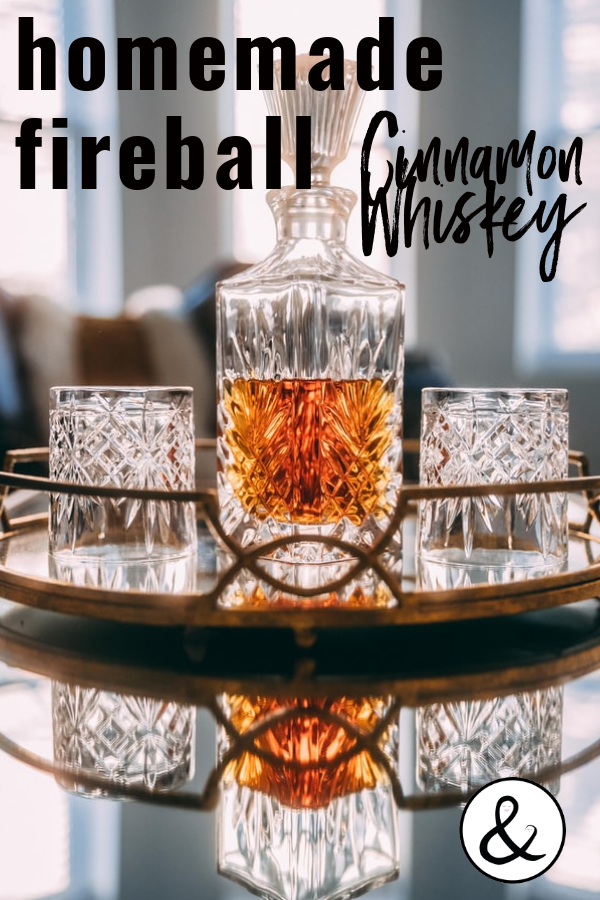 Homemade Fireball cinnamon whiskey is an awesome DIY project. I especially love drinking Fireball during the holidays or for social gatherings and parties. This recipe uses only natural ingredients, no corn syrup, dyes or additives.
If the Fireball recall bothered you, this recipe will sure make you feel better.
Homemade Fireball cinnamon whiskey is so good! Not to mention, it is also so much cheaper than buying regular Fireball. I love the rich, natural cinnamon flavor of homemade Fireball! The best thing about this recipe is that it uses mostly organic ingredients, so you don't have to feel so guilty for enjoying it!
Warning: This recipe takes about 5 days to complete from start to finish. Although it is easy to make, the infusion process is what takes 5 days.
What you need:
1 bottle of whiskey (1.75L) – I used inexpensive blended Canadian whiskey
200 ml (approx 6.5 ounces) homemade simple syrup – boil equal parts Organic Cane Sugar and water until sugar is dissolved, let cool
Cheese Cloth for straining
Infusion Jar like a Half Gallon Mason Jar
Optional: Red Chili Flakes or Chili Oil (added to taste if you like it spicy)
Directions:
Combine the cinnamon sticks and whiskey in a tightly closed container. If you are adding chili flakes, add these in too. Just a small pinch should do. Add the Fireball ingredients to your infusion jar.
Let the cinnamon sticks sit in the whiskey for about 4-5 days, swishing it around daily with the jar closed.
On the 4th day, I opened the jar and noticed the strong cinnamon scent and gave it a try. It was perfect! Let the cinnamon sticks sit in there for as long as you want and when you get the desired level of cinnamon flavor.
Strain the mixture into another container to get the cinnamon sticks and any debris out of the whiskey.
Lastly, combine the simple syrup if you decide to sweeten yours. This would be the right time to add chili oil if you decide to use some.
Now it's time to bottle or store your finished Fireball cinnamon whiskey made from scratch. Cheers!
Check out my new fall dessert recipe – Fireball Pumpkin Pie! Use your homemade Fireball to make a delicious and unique pie.
Create the perfect gift or always have Fireball cinnamon whiskey on tap by customizing a whiskey barrel for storing your homemade Fireball cinnamon whiskey!
If you want to make a cocktail out of your homemade Fireball cinnamon whiskey, check out this homemade Fireball Old Fashioned cocktail recipe to make your homemade Fireball into a crowd-pleasing cocktail for your holiday party.
If making Fireball was a success, learn how to brew Ginger Beer so you can then make a Fiery Mule cocktail and impress all your friends with your sophisticated libations!
Looking for another delicious recipe? Try making this refreshing Italian Homemade Authentic Limoncello!
Check out this awesome tutorial video from Whiskey With Wes:
Amazon and the Amazon logo are trademarks of Amazon.com, Inc, or its affiliates.