Are you trying to find ways to keep the kids busy? This homemade play dough recipe is ready in 10 minutes or less! Best of all? You probably have the ingredients at home already. Expired ingredients will work too because this will be for crafting purposes only. Although it is non-toxic and made with baking ingredients, it is best to avoid eating it. For some reason toddlers still put everything in their mouths though.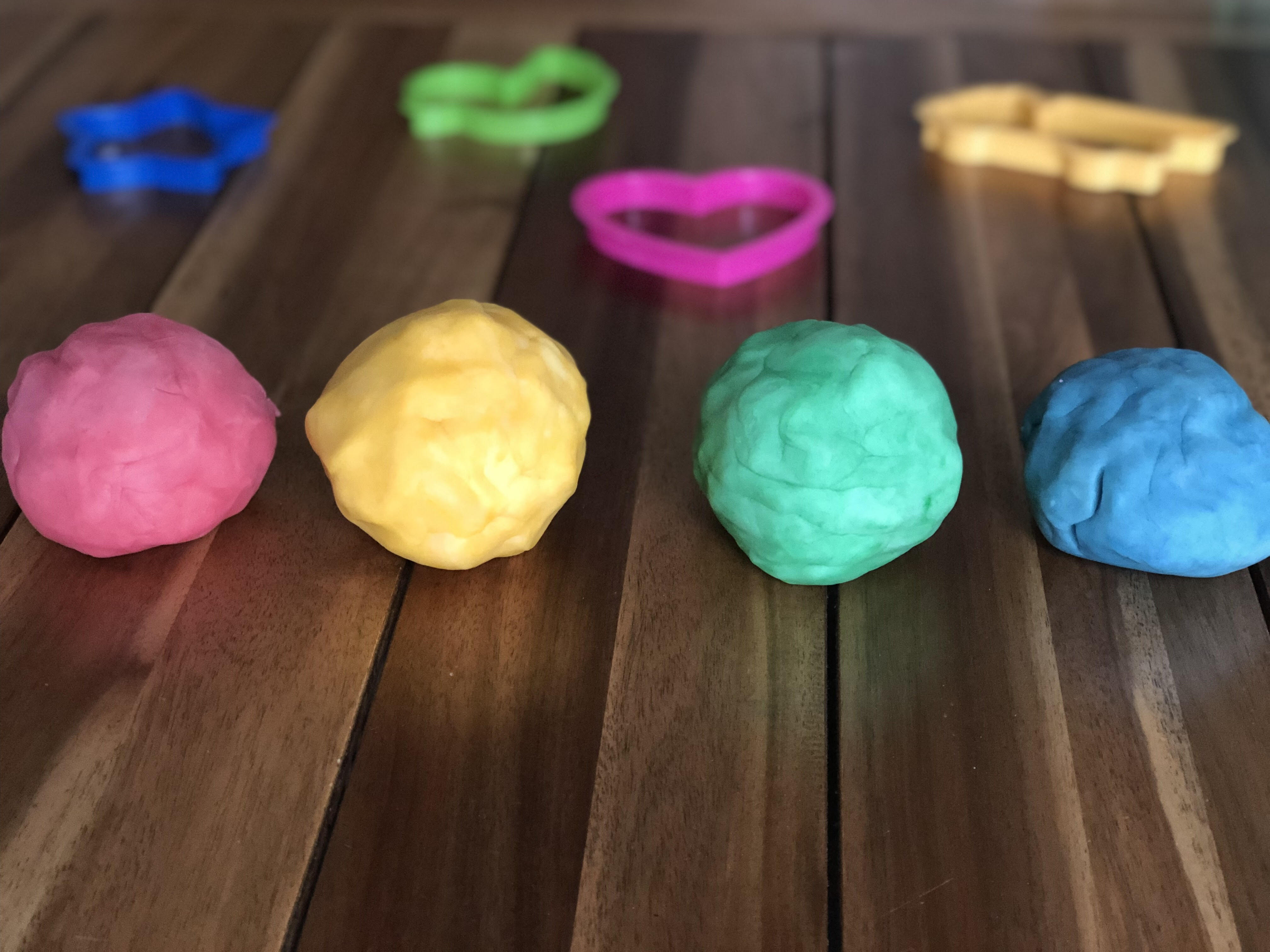 Below is a recipe for making homemade play dough at home. This DIY all natural play dough can be in no time at all. I have recently updated this recipe, as my no-bake version was not holding up for me lately. Maybe it was the measuring cups not being accurate all of the time, but who knows.
I know it's a crazy time right now. With school closures and remote learning being our new normal, this is a great activity for keeping the kids entertained. My kids really enjoy baking with me too!
And even when things are back to normal, we make this play dough as often as needed. It keeps well in an airtight container or ziploc bag for months. Great for raining days or sick days too!
So here is a quick cook version of my homemade playdough recipe that I have had great success with when I make it. There is still the option to make sick day, calming, or uplifting play dough by adding the essential oils mentioned below.
These recipes are perfect for those rainy or sick days or when you want to calm active children but still keep them busy. Or maybe you just need to switch things up in your home or classroom? These recipes take only about five minutes to make using ingredients in your kitchen!
Homemade Play Dough
double up on the recipe for more play dough or to create many batches of different kinds
Ingredients:
2 cups flour (sometimes more is needed in the end to thicken the dough)
3/4 cup salt
2 tablespoons melted coconut oil or any other cooking oil
4 teaspoons cream of tartar
2 cups warm water
Vegan food coloring (optional)
Essential oils (optional)
Directions:
In a saucepan, mix all of the ingredients together over medium heat. If you are making more than one color, do not add the food coloring yet.
Stir constantly until the mix forms a firm ball of dough. It might look like a thick sauce for a few minutes, so just keep stirring.
Once a firm ball of dough is formed, removing from heat and allow the dough to cool.
If you are making more than one color, break the play dough into equal parts for as many colors/scents as you want. I divide it into 4 equal-sized balls of dough to make four different colors of playdough.
Add each ball of dough to a quart-size bag. Add 10-12 drops of food coloring or 2-5 drops of essential oils of your choose.
Knead the dough in the bag so that your hands do not get exposed to food dye. This is super fun for kids to do too!
Store the finished playdough in the bags. These should last for months at room temperature.
For sick day playdough and added immune support Thieves essential oil.
For calming playdough and a natural calming effect, add a few drops of Lavender essential oils.
For uplifting playdough and a peaceful environment, add a few drops of Joy essential oil.
Here are some other awesome posts like this one:
Homemade Sleep Spray
How To Calm Children Naturally With Essential Oils
DIY Monster Away Spray
Amazon and the Amazon logo are trademarks of Amazon.com, Inc, or its affiliates.