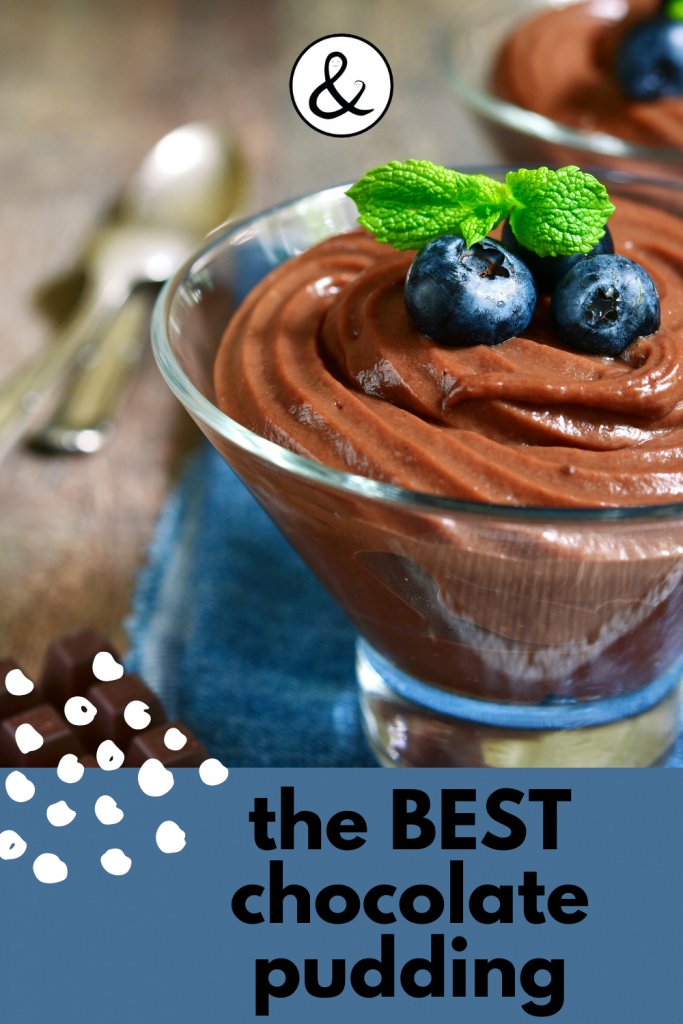 Quarantine life is…interesting. With so many items out of stock including my regular household staples like eggs, I was craving a tasting treat. I was tempted to order some boxed instant pudding mix but I was disappointed when I saw that they all had artificial ingredients including dyes. I mean, why does it need to be dyed when chocolate is naturally brown in color anyways? In attempts to make my own I realized that many recipes called for eggs and I just couldn't find any. Other recipes I found called for cornstarch which was a win for this recipe! Here is the best chocolate pudding recipe you can make at home in no time.
While I was making this pudding I was worried that maybe I got the ingredient measurements wrong because it was very liquidy for awhile and I was afraid to turn up the heat too much on the stove. I used the recipe from Spent With Pennies and it was really good! I'd make a few tweaks next time including less sugar.
What I loved about this recipe is that it had more cocoa powder than most recipes called for. I love my pudding chocolatey! This pudding reminds me of Trader Joe's Belgium Chocolate Pudding…like for real! Once you let it cool for several hours in the fridge it gets so much more thick and creamy.
The Best Chocolate Pudding Recipe Ever
Hopefully you already have all of these ingredients at home. The cornstarch was a real lifesaver for me!
What you need:
The original recipe calls for 1 1/3 cups sugar. Next time I am going to use less – maybe 1 cup.
2/3 cups cocoa powder. I might add 1/3 cup more to make up for the sugar I omit next time.
1/3 cup cornstarch (the perfect amount)
pinch of salt
4 1/2 cups milk (I used whole milk and was very happy with it)
3-4 tablespoons butter (I didn't exactly measure and just added a glob)
1 teaspoon vanilla extract (I like extra vanilla so I poured some in without measuring)
Directions:
Add all ingredients to a saucepan over medium heat.
Mix ingredients constantly. It will resemble hot chocolate when it is mixed thoroughly.
If it is still runny like milk, crank up the heat a little bit at a time so that it comes to a simmer or low boil. If it is too hot, it can burn the bottom and nobody likes a burnt tasting pudding!
Continue to stir constantly until you notice the pudding start to thicken. If it doesn't thicken after 5 minutes of this, crank up the heat some more. I was scared about burning my pudding so I was conservative with the heat, but will crank it up faster next time. It did eventually thicken!
Once it is thick enough to coat the back of your stirring spoon, it is really to be cooled.
Remove from heat for a few minutes.
Transfer to single serve ramekins or a large glass pyrex container. The single serve containers cool faster if you want to enjoy it sooner rather than later.
Top the surface of the pudding with plastic wrap to prevent a film of skin forming on the top. While I usually do not like using plastic, this was definitely a lifesaver for making this recipe great!
Cool in the fridge for at least a few hours unless you like it warm and thinner in consistency.
I served it with whipped cream on top. Yum!
Amazon and the Amazon logo are trademarks of Amazon.com, Inc, or its affiliates.