It can be hard to find vegan prenatal vitamins, especially ones that you love! Look no further than my most favorite vegan prenatal vitamins yet – Ritual Essential Prenatal Vitamins.

Essential Prenatal is perfect for pre-pregnancy, pregnancy and while breastfeeding. Whether you are trying to get pregnant or not not trying, you will be ready when the time comes to make sure your baby gets all the vital nutrients during the earliest stages of development, which is often times before you even realize you are pregnant.

Essential Prenatal is vegan-friendly, tested for purity and contaminants, which checks for heavy metals, allergens and additives. Essential Prenatal tastes and smells great and are smaller than many other prenatal vitamins out there that may cause nausea or be difficult to swallow.
Another concern I have when taking prenatals is if it contains enough DHA and if the source of DHA is sustainable and low in mercury. Since Essential Prenatal DHA is made from algae, I do not have to be concerned about high mercury levels.
Ritual's Essential Prenatal vitamins contain exactly what you need during pregnancy, with no unnecessary vitamins added.
Start your Ritual with Essential Prenatal! I think you will love these vegan prenatal vitamins as much as I do.
You may also enjoy: Omega 3's for Pregnancy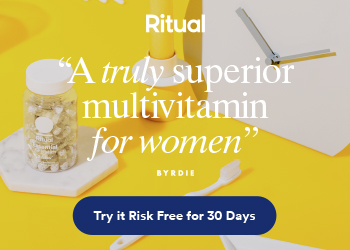 Learn more about Ritual Vitamins here!
Amazon and the Amazon logo are trademarks of Amazon.com, Inc, or its affiliates.