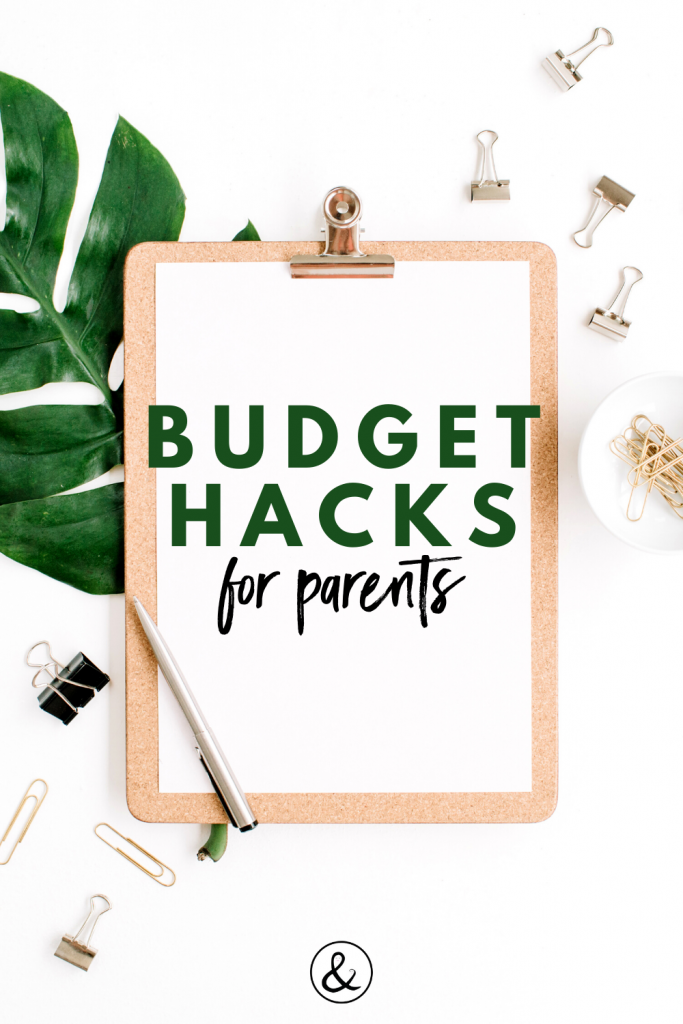 As a mom of three, our budget has become tighter with each child we have brought into this world. Between the cost for health insurance plans and the payments for our minivan we needed to get to fit three car seats, we must pinch our pennies whenever possible. Below are my budget hacks for parents.
There are always those finances that must be paid for no matter what such as rent/mortgage, utility bills and insurances. But what about going out to restaurants or splurging on clothing? I know it can be hard to make it all work without going into debt or completely compromising on having fun once in a while.
Before All Natural & Good, I was "the couponing wife." Although I still love to coupon, I do not have the time like I used to to clip coupons and strategize my grocery trips. Heck, it seems like it is hard to even find coupon inserts anymore. From a former couponer to a Target clearance loving mom, here are some budget hacks for parents that I have picked up along the way.
For our family of five, grocery bills take up a significant portion of our monthly spending. I know it is more affordable than eating out and I do try to cook for scratch whenever possible. We are a mostly organic family, so that is an added expense as well. While buying groceries beats eating out, be careful about how you spend your money on food. Here are some budget hacks for parents:
Walmart Grocery Pick-Up and Delivery Services:
This is my current obsession! For one thing, it eliminates those impulse buys. Not only that, but without fail I always walk about of the grocery store without everything on my list because either my kids are distracting me or I forgot to write it down. With Walmart grocery, I open the app on my iPhone whenever something that I need to add to our grocery list comes to mind. I add it right away and never forget to write it down.
Not only do they offer this service for groceries, but you can add other household items to your order such as toilet paper, paper towels, arts and craft supplies, personal care products, diapers, pet food and more! You can use my link to save $10 off your first order!
I love the variety of organic and natural products that Walmart now offers. They always have the best deals and I do not even need to step foot in the store (ah!). The employees are always so friendly and they carefully load up my order into my car, all without any fees or inflated prices! Whenever I catch my essentials on roll back (sale), I stock up!
The Walmart grocery service is a great way to budget, avoiding impulse buys and only buying what you really need. You see your order total increase as you add items and it really makes you think: do I really need that?
Walmart also offers a delivery service for a small fee. I use the delivery service whenever I am sick or unable to leave the house for any reason.
Get $10 off your first Walmart grocery order!
Write Stuff Down:
I am all about hand writing everything! From to do lists to creating a budget, we love writing a break down of our expenses to keep track of what we are spending, being sure not to spend more money than we have.
Even better, try to spend less than what you make and have enough money leftover to save and invest for the future, including retirement, emergency expenses and the future of your children (think college, weddings, etc).
Fixed expenses should always be at the top of your list. Create categories with reasonable budgets for each. Add up the total for each category for a grand total. Cut costs in categories such as shopping, eating out, etc. as needed. It is better to limit those luxury expenses than rack up your credit cards.
Make Your Own Products:
If you can't tell by now, I love making my own products when I can.
This includes –
Have fun and save money by trying to make your own products too!
Budget-Friendly Meals:
One of my favorite food blogs is Budget Bytes. I cook many of her recipes regularly and they never disappoint! My kids have also been really into pasta, which is a quick and easy meal on its own. We have starting making our own spaghetti from scratch because it is so fresh and freezes well.
Some of my other go-to favorite recipes include vegetarian chili and burrito bowls.
Let's not forget that morning coffee or latte. If you are in the habit of going to Starbucks every morning, try to make your own beverages at home. My current obsession is making my own dirty chai tea lattes.
Coupons & Apps:
Although I do not coupon ritually anymore, I still love my coupons! I love how Target has their own app with mobile coupons and other savings through Cartwheel. I scan every item I put into my cart to see if there is a discount or coupon through the Target app before I buy it.
Ibotta is also a great savings app where you get money back on the qualified items you buy. I have already saved hundreds of dollars on things I would already buy. They make it easy to scan your receipt and browse savings from mainstream retailers and grocery stores.
Budgeting doesn't have to take the fun out of life. I hope you find these ideas useful. Also check out my other frugal posts on the blog for more frugal ideas!
Amazon and the Amazon logo are trademarks of Amazon.com, Inc, or its affiliates.