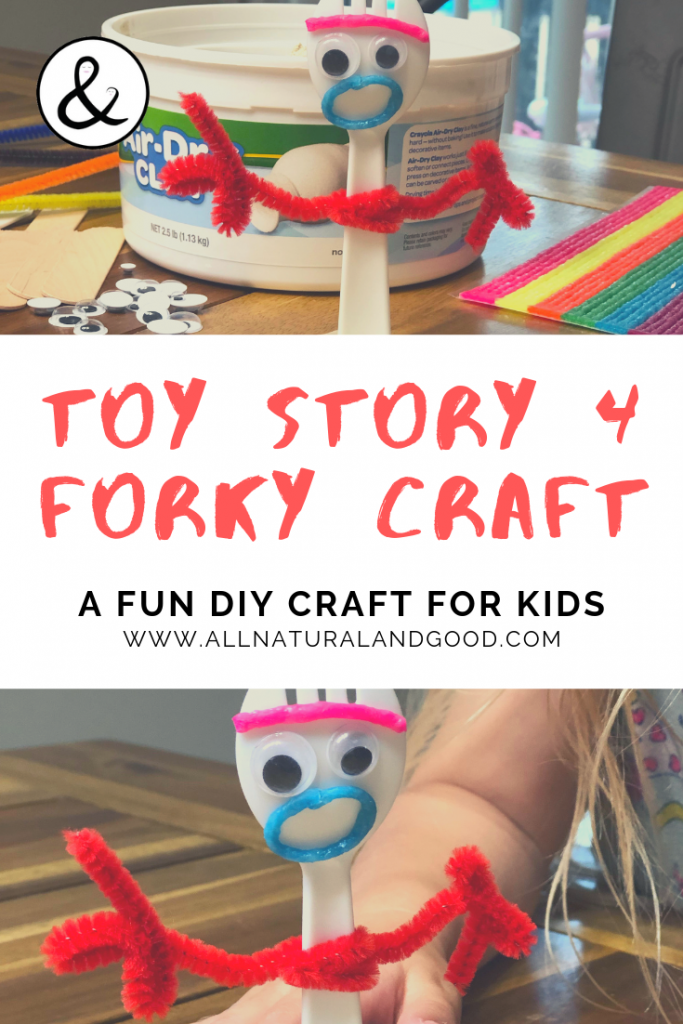 If you have seen Toy Story 4 or maybe you've been dying to see it, I am sure you have heard about the newest character, Forky. Forky is a homemade toy made out of a spork and other craft supplies. Your kids can make their own Forky at home with this DIY Toy Story Forky craft!
Bonnie is Forky's kid in the Toy Story 4 movie and much like Andy did with his toys, she wrote her name on the bottom of Forky's legs (popsicle stick). You can have your child write their own name or Bonnie's if they want.
In my long and difficult search for sporks (no one carries sporks anymore!) I ended up having to order a pack of sporks on Amazon. Taco Bell and KFC have black sporks, but I felt weird about going in and taking 20 sporks and they aren't the same as the original Forky.
I'd say if you are only make a few or even one Forky, go with the black sporks from Taco Bell and just order a side of beans. For a larger group or a Toy Story themed party craft, get a pack of white ones.
To make an authentic Toy Story Forky, you will need some red pipe cleaners, but I ended up buying a multi-color pack.
As far as Forky's eyebrow and mouth, in the Toy Story movie they are red and blue. I used Wikki Stix bendable wax sticks because they were easy and didn't require any glue or drying time. Puffy paints or glueing colored yard works too.
For the eyes, I bought a multi-pack of different size googly eyes since they are supposed to be two different sized eyes.
I used glue sticks to glue the eyes onto the spork, but you can also use tacky glue or super glue. I thought glue sticks were safest for little kids.
For the legs, I broke popsicle sticks in half. They are pretty easy to break using your hands, but they can be a little pokey where they split. I didn't mind since these will be on the bottom anyways. You might be able to cut them with heavy duty scissors.
Lastly, you will need some white air-dry clay for the base. This stuff is super easy to use and mold and dries within a few days.
Here is a list of everything you need to make your own Forky:
How to Make Your DIY Toy Story Forky Craft:
I liked making the base first. Grab a golf ball-sized amount of clay and form an oval shape.
Press the popsicle stick halves underneath into the clay for the legs.
Next, take your spork and turn in so that the bottom of the spork is facing you.
Glue the eyes onto the spork.
Add the Wikki Stix for the eyebrow and mouth. You can use your hands to pull off small pieces or use scissors to cut off a piece since the wax sticks are long.
Take a pipe cleaner and put it behind the stick of the spork. Fold it around one in each direction and again if you want it nice and snug.
Play around with the pipe cleaner to bend it and create hands.
Press the end of the spork into the top of the clay.
How cute is this DIY Toy Story Forky craft for toddlers or as a preschool activity or even as a fun craft for the kids to make at a Toy Story themed birthday party? SO fun!
For more exciting craft ideas, check out my DIY crafts for kids!
Check out my YouTube tutorial video here:
Amazon and the Amazon logo are trademarks of Amazon.com, Inc, or its affiliates.