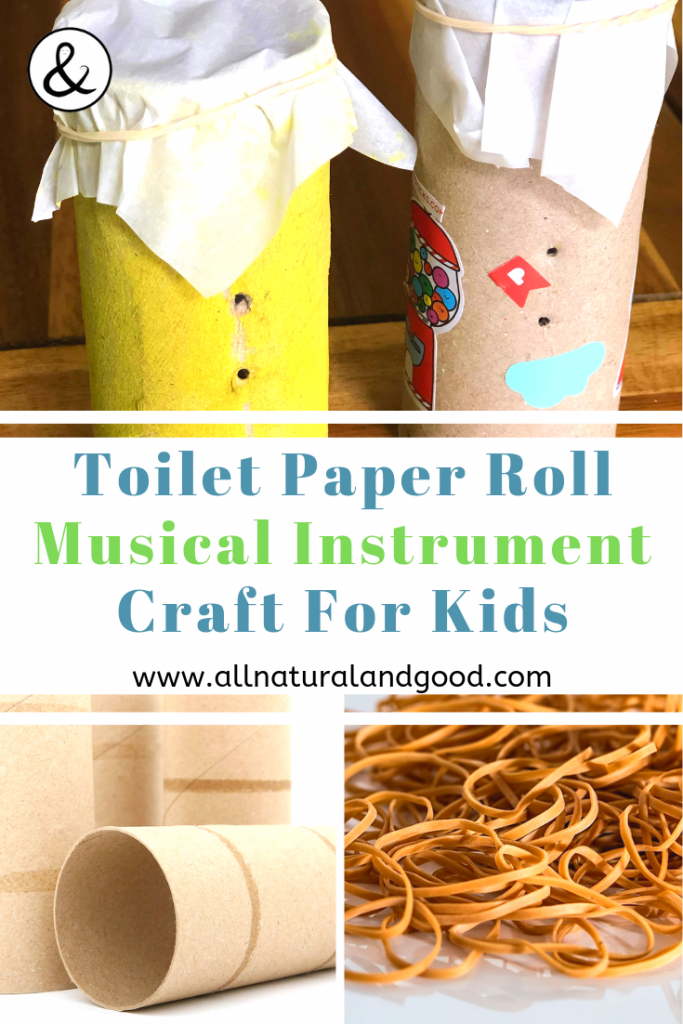 Instead of throwing our toilet paper rolls away, I like finding ways to reuse them – this toilet paper roll musical instrument craft for kids is a great example. These toilet paper roll kazoos are so fun to make and gives toddlers a way to make music using materials around the house.
I saved up a dozen toilet paper rolls with the intention of using them for a craft for our kids activity of the week. If you plan to just make one or two, you can get your materials ready a lot quicker. All you need are a few materials you probably already have around the house.
What you need:
Parchment paper cut into 3×3 inch or so squares
Stickers for decorating
A pen or pencil for poking holes in the toilet paper roll cardboard tube
When we first tried out this craft, my daughter wanted to paint it. At the time, I found it to be a great idea. What I found in the end, the paint softened the cardboard tube and when the rubber band was put around the opening with parchment paper, it didn't maintain it's shape.
To get the toilet paper roll kazoo to make sounds properly, a round and firm cardboard tube is needed rather than a cardboard tube that has gotten wet or misshapen.
This is when I decided stickers were the way to go! And who doesn't love stickers? Kids can decorate their kazoo with stickers to make it fun, with no drying time or ruining their kazoo!
Directions:
Take the parchment paper square and put it around one end of the cardboard tube to cover the opening.
Place a rubber band over the parchment paper to hold it in place. I found that sometimes the rubber band didn't hold up with a strong blow into the kazoo. You can wrap the rubber band around twice or use a larger rubber band wrapped around multiple times for a stronger grip.
Poke holes in the side of the cardboard tube. This can be done first or now, whichever you prefer. I found sticking my finger inside the inner tube helped with getting holes in it without bending the tube.
I found that one hole isn't quite enough. Two works great and larger holes work even better!
Decorate with stickers and have fun!
Play around with different holes and sizes to see which works best for your toddler. All they have to do is say "do, do, do" into the tube to hear the vibrations against the parchment paper. They can come up with some fun tunes!
This is a great project for kids using up-cycled materials that may otherwise be thrown away. These are creative DIY musical instruments if you ask me!
Amazon and the Amazon logo are trademarks of Amazon.com, Inc, or its affiliates.